Dairy and meat producers around the world face the global challenge of increasing food production in a sustainable manner. And this is in an environment of price instability, increased environmental regulations, rising agrochemical costs, and labor shortages. And the biggest of all, is climate change, with increasingly intense dry periods and increasingly erratic rainfall. How to survive these situations, but more importantly, how to thrive?
     One species has naturally adapted to most of these conditions in its natural evolution. It survives in savannahs with minimal intervention, tolerates droughts and floods better, and is more resistant to parasites and diseases in general. It is the Water Buffalo or Asian Buffalo (Bubalus bubalis).
     We, the buffalo breeders of Venezuela, are convinced that this noble animal is the answer to all these challenges. We are here to promote, defend and encourage the buffalo and its breeders.
WE ARE CRIABUFALOS DE VENEZUELA
Join this great family, start your membership here:
     If you are a breeder and have not yet become a member, what are you waiting for? In Criabufalos you will find support, training, technical assistance, promotion of your products, and a united community willing to improve itself more and more. Contact us.
     But if you are not a water buffalo breeder you are also welcome, we can clarify all your doubts and concerns and guide you in that transformation process you may be needing. You are not the only one, more and more of us see buffalo as a better production alternative and statistics prove it. In the last 15 years, Venezuelan buffalo farming has grown 500%. So many people cannot be wrong. We are waiting for you!
    Whether you are affiliated with Criabufalos or not, whether you are a breeder or not, you can keep up to date with buffalo news by signing up for our newsletter which will arrive periodically in your inbox.
      Venezuela will host the 13th World Buffalo Congress to be held in Caracas from November 22 to 24 under the organization of Criabufalos and with the sponsorship of the International Buffalo Federation and the American Buffalo Breeders Federation.
For more information about this important world event you can access the Congress web page from the menu above or through this link
And while organizing the World Congress
The Buffalos took Caracas. ¡And the Buffalo breeders too!
2nd National Fair of Criabufalos Venezuela
     More than 350 animals on display, more than 90,000 visitors in 4 days of the Fair, renewal of the Board of Directors of the Association, a gastronomic exhibition of buffalo products, food fair, music, concerts, and activities for the whole family. It was the largest, best organized, and most impactful cattle event in Venezuela this century. We are demonstrating that the future of cattle raising in Venezuela is based on this wonderful animal: the Water Buffalo.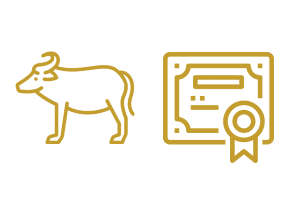 The Technical Commission of Criabúfalos of Venezuela administers the registration and genealogical control program (PRCG). This program is in charge of the processes of creation, promotion, and administration of the herd books of buffalo breeds in Venezuela.
     Only associate members can opt to certify their herd with this program. When a buffalo is certified by the PRCG, the value of the buffalo increases, and at the same time, the genetic improvement of the national herd is promoted.
Agreement with the Agronomy Faculty of La Universidad del Zulia LUZ
     The Faculty of Agronomy of the University of Zulia is a great ally of our association and this relationship brings benefits in the academic area for all members of Criabúfalos as well as for the general public.
     They endorse our training, open their doors for research and together we promote the buffalo business throughout the country.
To see the articles published so far, press here.